Consice 11F History
From August 1951 to June 1952, 1F carried out a campaign in Indochina aboard the Arromanches (R95), equipped with the Grumman F6F-5 Hellcat.
The current 11F Flotille was officially created on 20 June 1953 on the basis of the 1F Flotille, from which it took over the personnel, equipment, missions and traditions.
In September 1953 she was sent to fight in Indochina, where she took part in the defence of the Diên Biên Phu stronghold. She gained three additional citations and flew 344 missions totalling nearly 5,000 hours until April 1954.
Transformed on SNCAE Aquilon (their first jet) in April 1955, she participated in operations in Algeria in 1958 and 1959 before ensuring the defence of Bizerte in July and August 1961.
11F was disbanded for the first time on 17 January 1955 and re-armed on 4 April 1955.
Disbanded again on 18 April 1962, it was reconstituted on 1 April 1963 and occasionally appeared on Étendard IVM.
The first landings performed by 11F on the aircraft carrier Clemenceau (R91) took place in September 1963.
In May 1967, the 11F left (Base d'Aéronautique Naval) BAN Hyères Le Palyvestre to settle on BAN Landivisiau.
Equipped with Dassault Super-Étendard from September 1978, the 11F then received the maritime and land assault mission, by day and by night. Its planes are armed in particular with Exocet AM39 anti-ship missiles, and capable of carrying the AN-52 nuclear bomb.


They participated in Operation Olifant in Lebanon in 1983. (On October 23, 1983, two truck bombs struck barrack buildings of the Multi-National Force in Beirut, killing 307 persons, mostly US and French military personal. In retaliation for the attacks, France launched an airstrike in the Beqaa Valley against alleged Islamic Revolutionary Guard Corps targets.)
In 1989, the ASMP cruise missile replaced the AN-52 for nuclear strike missions.

Flotille 11F was deployed in the Adriatic from January 1993 to February 1995 for mission Balbuzard (The aim of this operation was to help free hostages held on the outskirts of Sarajevo, to ensure the safety of the French elements of UNPROFOR and to facilitate the possible disengagement of forces on land) in former Yugoslavia.
From the end of 1995, it received modernized Super-Etendards capable of dropping and guiding laser-guided bombs.
In 1999, the 11F took part in Operation Allied Force in Serbia and Kosovo, carrying out more than 400 sorties and dealing with 85 targets.
Back in France, Flotille took part in the trials of the aircraft carrier Charles de Gaulle (R91) in 2000-2001 and then in its first cruises.
Its Super-Etendards were modernized again, first to standard 4 and ultimated to standard 5.
A deployment in Afghanistan took place from February to May 2007.
End of 2010 the conversion on Dassault Rafale M(for Marine) began.
On Monday, 19 September 2011, she became the second Flotille to be converted on this aircraft, the SEMs being gradually transferred to the 17F Flotille.
In October 2017, four Dassault Rafale M from 11F and 12F were sent to the temporary air base (Base Aérienne Projetée) BAP Prince-Hassan in Jordan, as part of Operation Chammal (the French military operation in Iraq and Syria launched to help curtail the expansion of the Islamic State of Iraq and the Levant and to support the Iraqi Army)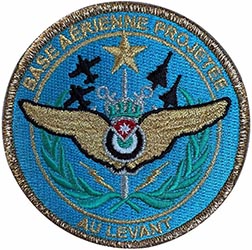 Since then 11F has participated in many international operations, missions and exercises around the globe, like f.e. Operations Antares and Jeanne D'Arc.