When Austria was annexed, this group was originally incorporated into the German Air Force under the designation I./JG76 on 1 May 1939.

The unit was renamed II./JG54 in 1940. In this II. Gruppe of Jagdgeschwader 54 there were mainly Austrians and although "RedWhiteRed" was frowned upon at the time, they continued to use their stylized Asperner lion on a red and white cross in their coat of arms. During the Second World War the unit fought on all fronts and first opperated several versions of the Messerschmitt 109 and later the Focke-Wulf 190.

Although the lion had different background colours the official one was white.

JG54 would be known as the famous "Grünherz" until their disbandment in March 1945.
The 2. Staffel as part of the Surveillance Wing was established in 1976, flying the Saab 29-F "Tunnen" following the amalgamation of the Jet School Squadron Zeltweg and the Fighter Bomber Squadron Graz-Thalerhof.

A significant milestone was, without doubt, the arrival of the Saab S-35OE "Draken" for pilot training in 1987 and, thus, the Austrian Air Force's entry into the Supersonic Age.

After the withdrawal of the last remaining "Draken" from service in 2005 the unit operated 12 Northrop F-5E "Tiger II" aircraft leased from Switzerland as a stop-gap measure.

The Republic of Austria took delivery of its first Eurofighter "Typhoon", serial number 7L-WA, on 12 July 2007. After the UEFA EURO 2008 the F-5E "Tiger II" were returned to Switzerland and the Eurofighter "Typhoon" started to fly operational air surveillance in Austria. From this moment on, the Surveillance Wing, with its bases in Zeltweg and Linz-Hörsching, has relied upon the Eurofighter "Typhoon" and Saab 105OE (operated by 1.Staffel of the überwachungsgeschwader) to maintain the sovereignty of Austrian airspace.
After retirement of the Saab 105OE by the end of 2020, the Eurofighter "Typhoon", operated by 2. Staffel, is the only Jet-Aircraft responsible to protect the Austrian Airspace.

The Battle of Aspern
On May 21st and 22nd, 1809, the Battle of Aspern and Essling took place in front of the gates of Vienna, a battle of the Fifth Coalition War between Napoleonic troops and Austrians under the supreme command of Archduke Karl. After tough fighting, the village of Aspern in the Marchfeld changed hands a total of nine times during the battle. Ultimately, however, the Austrians managed to assert themselves, with this being mainly due to FML Johann von Hiller, the commander of the VI. Army Corps. In this battle, Napoleon Bonaparte was defeated for the first time in pitched battle, shattering his aura of invincibility. In the battle, the Austrians lost 23,300 men and the French around 27,000, unusually high numbers for the time, making this clash the costliest for both parties in the course of the coalition wars.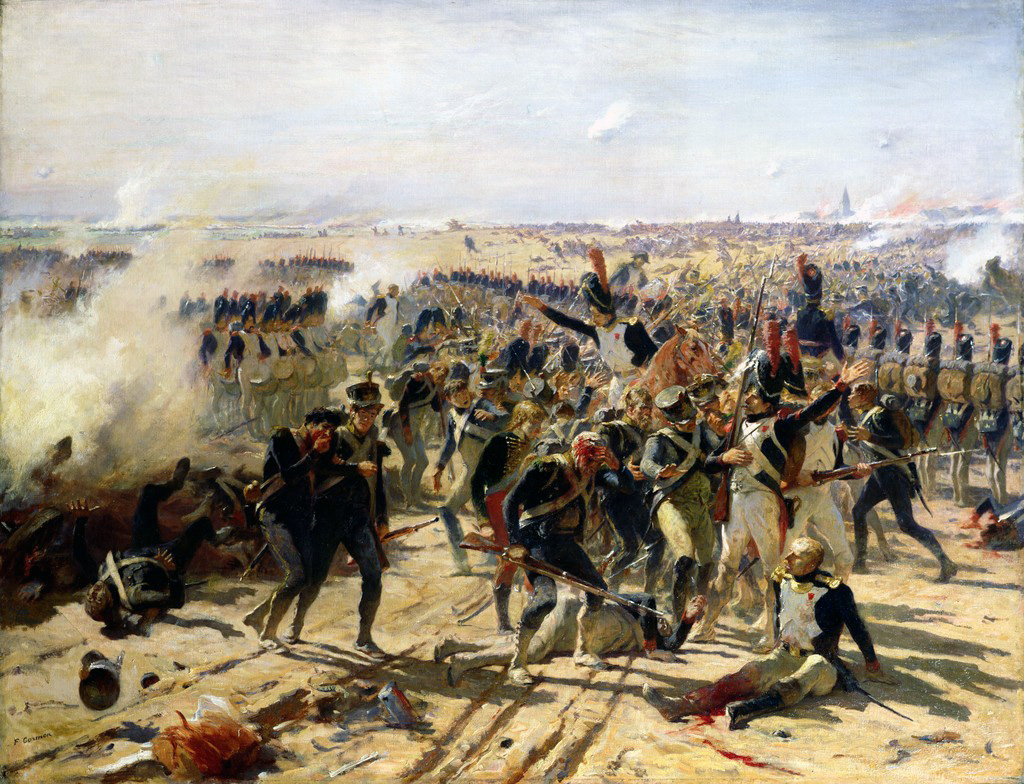 the aircraft drawings are to scale